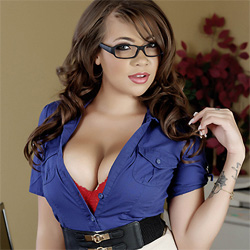 Yes, I know – it's been a while. I sort of want to say I have been taking some time off from running my porn sites, but the reality is that porn has sort of taken some time off from being able to be run. It's weird to say it that way, and I know it doesn't make much sense, but here we go anyway, starting with a little history.
Porn has almost always been used as a tool to sell stuff. Yes, porn sells "porn", aka videos, dvds, magazines, and what ever else that is the media of the day. Porn has gone from Super 8 movies to VHS cassettes to DVDs to internet downloads, streams, and so on. It's gone from glossy nudes to magazines, from BBS downloads to mega porn image sites like 18 Nude Here, and all points in between. Online has seen everything from single images, news groups, TGPs, MGPs, and Picposts… so many ways that porn has sold porn. But porn also sells other things. Many of the girls (and guys) in porn use porn to promote themselves. Very often, porn was used by the girls to promote their feature dancing at strip clubs and to up their price – the bigger a name they are, the more they charge to appear. That also morphed into the semi-legal and out rightly illegal world of prostitution, escorting, paid dates, overseas trips… you know how it goes.It is said that many porn girls have been flow to countries in the Middle East to basically be paid fuck toys at lavish private parties and whatnot – all of it sort of on the QT. Porn wasn't selling porn at that point, it was selling the image, the girl, her name, and to some extent her skills. Many girls do "privates" after hours when they feature dance. It's not openly talked about, most will deny it, but it's a quiet sideline that nets the girls an extra 1-2K a night. When you know your shelf life as a performer is only a couple of years, the smart ones are in there making all the money they can while they can. The dumb ones too, but they usually waste the money on stupidities.
The porn industry, as a result of all of this, has fallen on some pretty hard times. Consolidation has come in a big way, there are fewer and fewer companies producing porn, and they often appear to be producing it as a means to an end to sell other products and services. The reality here is that most any media that is available can also be pirated, streamed, tubed, and so on. The producers have in many ways lost control of their product, and that in turn has hurt the value. Smart ones are turning out enough new content, evnough new scenes, and are offering great streaming rates to make paying a membership worthwhile. Others have slid to the side. The knock on effect for me and my sites is that there is less material to promote, less new material getting out, and the companies are less interested in this type of promotion.
However, there is good news. Live Cams. In an almost perfect circle back to the start of online porn, amateurs on webcams have replaced amateur girl sites, and it's a freaking wonderful thing. Sites like Tit 4 Free Live Cams have hundreds of girls, guys, couples, lesbians, shemales, and whatnot all on live 24 hours per day with free to join options. You can chat live with sexy people who love to show off, and it's mostly real amateur webcam sex at home stuff that is totally awesome. It's one of the reasons why many of the posts on here are about cams, because honestly, LIVE CAMS ARE THE BEST THINGS TO HAPPEN ONLINE! The combination of great cams, faster connections, and great streaming make this the killer key for the forseeable future of porn. You cannot easily pirate live, it's something you need to see yourself. With free to join offers, it's a no brainer! So don't worry, I am around, I love porn, pussy, hot girls, big boobs, small boobs, and all that stuff – so more to follow!