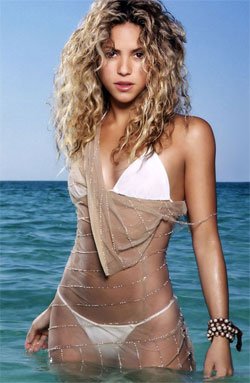 The sizzling summer of bikini clad celebs continues with sexy singer Shakira. This columbian hotty is mostly known for her very nice hips and the ability to shake her money maker, but there is more to this hotty! I love this girls piercing eyes and smooth skin, she is a perfect putaface celebrity, that is for sure!
It's been a pretty weird week in my world, still working on learning a new programming language or two and trying to figure all that out. Finding celebs in bikinis is way easier than trying to figure that out. Things are coming along, and I hope to be using some sparkling new tools in the next few days to get everything working 100%.
New blog this week (so new it is a little short, but the idea is hot) is Wild Wives. Horny housewives, slutty amateurs, gangbangs, whatever I can find, from young moms to horny wives to slutty cougars, you never know where this one goes, except to the dirty and depraved side.
My personal favorite hotty of the week is Evelyn Lin, to me one of the hottest asian girls in porn right now, a great combination of girl next door natural looks and impressive cock sucking skills. She is the girlfriend you take home to Mom and then get a hummer in the car on the way from home. Fucking awesome!
Oh yeah, check out the live chat rooms here, summer is a great time to get naughty!