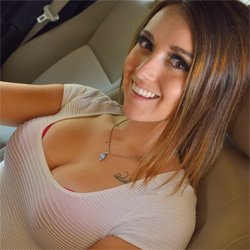 It's been way too long since I posted here, the real world has sort of gotten in the way and taking up way too much time, but I'm back beaches and the party is just getting started. While I was gone an Orange man got elected President of the US, Kim Kardashian got robbed and she got pissed off that they didn't want to see her naked I guess, and the porn world has pretty much eaten itself alive again. Oh, and I binge watched NCIS Los Angeles and generally enjoyed it too.
First on the plate, I have to say that the constants in porn are great. The girl at the top of this post is from FTV Girls, they are a truly fucking awesome site with girls doing their first even nudes, public flashing, upskirts, sex toy play, and much more. The site has been around for every and it's truly a gem for anyone who loves to see real girls getting off and getting naughty in public too. Go check it out, the list of girls will amaze you and the quality of the pics and video will stun you. This is the stuff!
I haven't been entirely slacking. Findpics Free Porn now has almost 7000 galleries, 1300 pornstars, and more coming every hour of every day. The stuff is all sorted by category and model and all that, so if you want free porn, then come on over and check it out – and tell your friends, tweet it out loud!
Also, my first of it's kind stories blog Free Erotic Stories from 4 Free Stories has become one of the most popular stories sites online. Nearly 2 million views last year, this site is hot as hell and the stories are great. Turn yourself on reading these amazing sexy stories and again – tell you friends!
Finally, don't forget to check out our live cam sites. Hot girls who love to show off, couples fucking, lesbians, trannys, gay men, whatever it is you like there are there live 24 hours a day chatting and getting off. Look, it's free to join, so why not? Check out Tit 4 Free Live Cams and get your free membership now – don't wait!