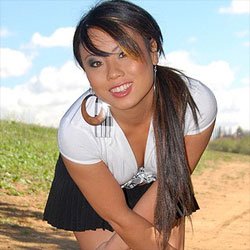 Well, spring has sprung, the grass is riz, you know the drill. Actually, in my part of the world spring has only just shown up, we had snow last week! So I start off celebrating spring by giving you a nice shot of fresh new asian pornstar Holly Woo (great name!). Nothing like a fresh hot asian girl to make the spring go well. You can find Holly Woo and many more asian porn girls over at my Asian Pornstar Blog, I add a new girl every week, so there is plenty of hotties over there!
I have been working on a few other things as well, including an intersting movie site I am part of that will be coming along very soon (hopefully this week). I also have another new blog on Latina Hardcore. It seems that many of the new hotties in adult these days are spanish girls, and there are plenty of fresh and hot faces out there, so who can resist?
Long time readers also know I enjoy car racing. F1 has been a long time passion, but recently it has gone to the dogs. 2009 is starting off as 2008 finish, Greedy Formula 1 promoter Bernie Ecclestone shifting race start times to best suit the TV audience in Europe, even through one race was run in near darkness, and the other in a tropical monsoon. It's terrible to think how little respect this guy must have for the sport. It's all about money, too bad really.
Anyway, don't forget to check out Pornpig for fresh updated porn.