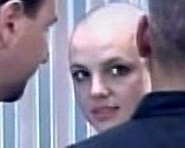 I guess that "oops she did it again" won't even start to cover this one up.  The "princess of pop" or whatever she is called really looks like she is on the verge of a total breakdown.  Over the last few days, Brit has been in and out of rehab in Antigua (she lasted about an hour, apparently) and then flew back to LA and sheared all her hair off.  She also got a couple of tattoos.
Then, after that major and well publicized head shaving, Britney has the dumb bad taste to not roll with it, and shows up on the "curcuit" wearing a wig that looks like it might have come out of the back of her mother's trailer.   Total $19.95 wal-mart special at work here.
Do you remember when Britney was yummy?   Click here to check her out at her peak !