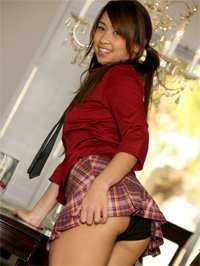 Figured I would start you guys off with my current fav asian babe, Ariel Spinner doing the schoolgirl uniform thing again. Damn, this little asian hotty is barely 18 and she already knows how to tease me senseless!
It's getting to that time of year, the World Series for baseball, even if it is American teams only, the NFL football season is well underway (Go Favre!), and auto racing is sort of running to the end of it's season. Formula 1 remarkably has been very interesting this year with Newcomer team Brawn GP pretty much running the first half of the season and now on their way to both a driver's championship and a constructors title. Potentially tight for the end of the season, very exciting. At the other end is NASCAR, which has turned into such an ugly, dull, boring grind that even the drivers seem confused about where they are running. The racing is dull, the tracks are dull, and the car of tomorrow is a dull race car that handles like crap. I find myself basically tuning in for the last 10 laps, otherwise not interested – and this from a huge racing fan!
Otherwise, new stuff? Hmmm. I started to keep an updated run of Cumfiesta scenes at Babes that Suck, kinda hot if you like that sort of thing. As always, my Sexy Blog is updated often, and Gangbang Erotic Stories might interest you too.