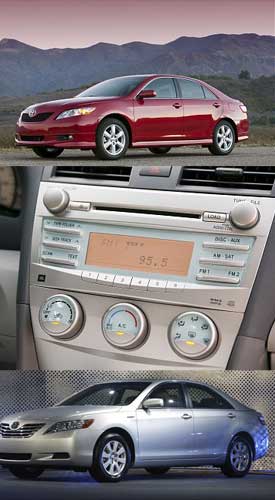 Another weekend trip had me driving around in a just about new 2007 Toyota Camry. Refridgerator white, LE version with a 2.4-liter 4 cylinder VVTi, twin cam, 4 valves per cylinder. 158 hp at 6,000 rpm, 161 lb-ft torque ( I stole the specs from another site, there you go). Light color interior, and let me tell you, this car feels big, drives big, and is pretty darn, well, not small.
It should be noted that I drove this car back to back with a 2006 Ford Taurus, which in theory is the direct competition for this car. The differences are striking, and I think now I can understand why the Camry has become the best selling car. I did a similar amount of mileage in each car, with mixed city and highway driving totaling about 500 miles.
The new Camry has got a big shnoz. It has a big nose. It is striking, in a similar manner to the Dodge Magnum, it has a pretty big presence when you walk up to it from the front. I am sure it makes a pretty big presence in rear view mirrors as well… 🙂 Anyway, the profile almost says hatchback, as the trunk is cut in pretty deep under the back window. I found the truck lid opened very wide, but wasn't all that big of an opening. I would say that the trunk is huge, but much of it is under the rear parcel tray. It gives the car a very nice overall swoopy look. It's nice.
The interior size is huge. 5 passanger size space, a huge rear seat and the fronts are generous in size as well. No problem putting 4 full sized adults in this car for a very long trip, and 5 for a reasonable trip wouldn't be punishment. The inside is really well appointed, and I was most impressed with the HVAC controls. Three round knobs, very simple, but each one is also a push button. The temperature control is also a push button for the AC on/off, the fan for the recycle, and the vent selector turns the reare defroster on and off. It makes for an extremely neat package with few apparent buttons, and allows the nice smooth fake metal panel to look wonderful. Clean and simple, and totally functional.
I would have prefered the car with the 6 rather than the 4, but to be honest with you, this isn't a sports car, so don't worry too much. There was enough ponies for this car to keep up in traffic, and the milage was pretty darn good, in theory 32-34mpg on the highway, and I think with the cruise set reasonably I got pretty much that result.
Downsides?  Well, the car has the soul of an appliance.  There isn't really anything exciting about driving this car.  It is nice to drive, pleasant and not at all annoying, but certainly not anything you would mention to anyone.  It is a very capable car and I am sure that pushed to it, the car would turn nicely and run pretty well, but I felt no desire to see.  I don't even think I made a really hard accelleration from a traffic light or stop sign or anything, the car just doesn't even suggest that as being a good idea.  I felt very responsible driving this car.
Quite possibly the perfect car for people who buy them to go from A to B but not to notice the trip.  I suspect it will be a huge seller!