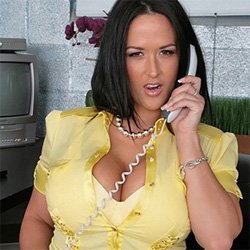 For you guys with the sharp eyes, you know that the girl in the picture is Carmella Bing, possibly one of the best known big boob pornstars out there right now. She is one of the new entries on my Busty Pornstar Blog. That's right, nothing but pornstars with big boobs. Real ones, fake ones, shockingly fake ones, whatever the case, I will bring them to you on the Busty Pornstar Blog. Simple stuff, and actually pretty hot.
I also working to get the new Stories X Erotic Stories blog up and running, a bunch of newer stories and some stuff I have never seen anywhere, and weekly updates coming for the rest of this year at least. Bookmark it, this one will be fun.
Oh yeah, if you haven't tried it already, check out the live chat rooms here. Excellent stuff, good fun, and the real reason to have high speed internet!