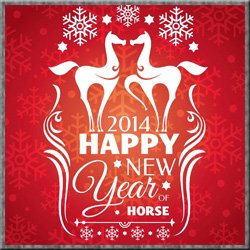 It's that time of the year again, for those of us living in Asian parts of the world it's the Lunar New Year or Spring Festival time, one of the biggest and most traditional holidays particularly for Chinese people. In fact, most of China turns into a giant outdoor fireworks display, where some of the truly most dangerous random firing of pyrotechnics hurt and maim a ton of people every year. Happy New Year, right? Anyway, It's a big deal time of spending with your family, friends, and even a day reserved for those who have passed on. It's very important stuff, as is the animal of the year. This year it's the Horse, and that means everything will be done at a trot or faster this year, a year of getting head and moving quickly. Worse comes to worse, check out the hot Asian girls here for some inspiration for the new year!
In that spirit, well, my time is a little limited these days for making new things and getting them live. But that doesn't mean there isn't things going on, some of it is in the back ground and some of it will be interesting. I have a pretty fresh take coming on the pornstar world that should be up by the middle of February, and will be something you will want to bookmark and check a few times a day, because it will have a pile of interesting things. Don't forget also to check out All Free Erotic Stories for your sex stories fix, as well as Major TGP for a listing of hot galleries that updates every day with more hot stuff.
Finally, do yourself a favor and get a free account over at Tit 4 Free, this is our latest web cam variation and it's plenty fun. Lots of hot girls live and free, couples and stuff too, you never know what you will find. Get your free membership here, and then enjoy the action!